Best Self Storage Units in Riverside, CA
We all like to think we are the best at what we do and at The Storage Place we strive to do just that. Here are 6 reasons why we think we have some of the best self-storage units in Riverside, CA.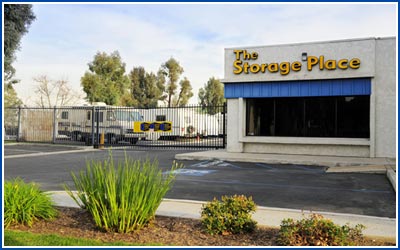 #1: Easy Access Near Two Freeways
The Storage Place, Riverside, CA location is near the 91 Freeway, actually blocks away, and is within 3.5 miles of the Interstate 15 interchange. Could it be any more convenient than that? Exit off of Magnolia Avenue or McKinley Street depending upon which way you are traveling down the 91 Freeway. Check out our map page for detailed directions to 12172 Severn Way, Riverside, CA 92503.
#2: No Deposit Required
Some storage facilities lock you into a year lease. Not us! Our leases are month-to-month so you pay for what you use and you can leave at your convenience. Just let one of our resident managers know in writing seven days before your rent is due for the next month.
#3: Security
When you drive up, the first thing you'll probably notice is the tall, locked gate. For your security, each customer is given a unique PIN code to access this computerized gate during business hours. Your PIN also opens the gate when you are ready to leave.
Next, look for the surveillance cameras up high on the corners of the buildings. For protection, our on-site managers monitor the camera feeds from their office.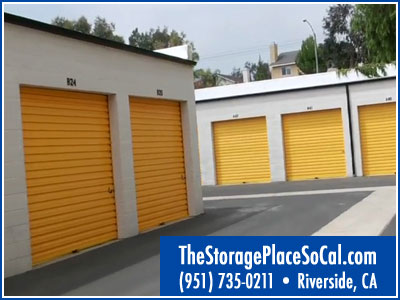 #4: Choices, Choices, Choices
Our Riverside self-storage location has units ranging from 20 to 400 square feet. The smaller ones are indoors and the larger units have roll-up exterior doors. See how cheap they are on our "Pricing and Unit Sizes" page. We also offer outdoor self-storage for automobiles, recreational vehicles, boats, and trailers.
#5: College Students Welcome
Did you know that Riverside, CA has many good opportunities for advancement including trade schools, colleges, and universities? Check out the list on our "Self-Storage for Riverside College and University Students" page. If you are attending USR or any of the other local institutions, and need storage for summer break, come on over! We're happy to find a place for your books, bicycle, microwave, and storage boxes.
#6: Professional Resident Managers
We have managers at the property seven days a week to help with your self-storage needs. Ready to sign up? Give them a call... Forgot your secure PIN? They can reset it for you. Need boxes and tape? They can direct you to our nearby Lowes and Home Depot! Want to pay in cash? They're happy to give you a receipt.
Contact Our Managers
Want more reasons why we have some of the best Riverside, CA self-storage units? Call our managers or send them an email, because they're waiting to hear from you!

Video
Check out this video about our "Riverside Self-Storage Features."