About The Storage Place
In business since 1977, at The Storage Place, we know how to care for our self-storage customers! Our public facilities in Fountain Valley: (714) 964-1607 and Riverside: (951) 735-0211 CA are clean and convenient and are run by knowledgeable and professional resident managers. Rental units are available in various sizes to fit your business and personal storage needs, from a closet or mini bedroom, to a small office, condo, or apartment, to a 7-bedroom house. Do you own a vehicle, boat, recreational vehicle (RV,) or trailer that needs to be stored? We've got you covered!
We offer our customers easy, "No deposit required," rentals and a large selection of discounted units. Ask about our sign up specials! Are you moving and need temporary storage? Our rentals are month-to-month. And, for your convenience, our Fountain Valley location has locks, boxes, and packing supplies available for sale on-site...
Our Fountain Valley and Riverside locations have surveillance cameras, computerized gate access, and professional resident managers. Visit our locations page and click the pricing links to see how much each unit costs per month.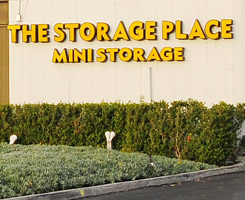 We've stored our "treasures" at The Storage Place for over five years and are sad to leave, but we're moving out-of-state. Everyone here has been SO helpful and we've never had any problems. We will definitely miss coming in here! (We highly recommend The Storage Place!!)
Bob and Barb, Huntington Beach, CA
Meet Our Managers
At The Storage Place, we have two locations to choose from and our managers proudly serve the following communities:
Fountain Valley / Huntington Beach

Kelly and Wendy: Hello, we are Kelly and Wendy and we have managed self-storage facilities since 1999. If you have Self Storage needs you have come to the right place. The Storage Place in Fountain Valley offers low rates and great service with a smile. Give us a call at (714) 964-1607, or, just stop in to say "Hi." We're here to help!
Riverside / Corona

Jeffrey and Denise: Hi everyone! We have been managing storage facilities since 1994. We have worked small properties with 263 units to very large facilities with 1,352 units and some in between. We are very excited to be at The Storage Place Riverside facility and the Riverside area. Let us know your storage needs and we will be happy to help you. Call us at (951) 735-0211. See you soon.
Send Us Your Questions