Business Storage in Riverside, CA
Riverside, CA is a thriving city and is home to a diverse range of businesses, from small startups to large corporations. As a business owner, increasing productivity and lowering costs is key to your company's success and longevity. Renting a self-storage unit is a great way to have an inexpensive place to store small equipment, business supplies, trade show inventory, and documents. As your Riverside business expands, renting a larger unit in the same facility, or even a second unit is easy!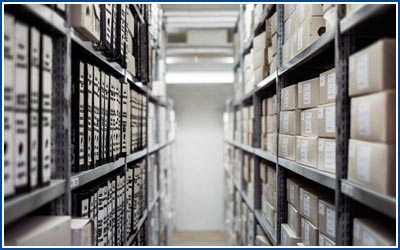 Here are some of the benefits of using business storage in Riverside, CA:
Increased Space: A self-storage unit can provide your business with additional space that you can use for inventory, equipment, or records. This can free up space in your office or warehouse, which can improve your productivity and efficiency.
Security: Business storage facilities offer a high level of security, which can help to protect your belongings from theft or damage. This can give you peace of mind knowing that your belongings are safe and secure.
Convenience: Business storage facilities are often located near major highways and transportation hubs, which makes it easy to access your belongings when you need them. This can save you time and money on transportation costs. Our Riverside storage facility is near the 91 freeway.
Six ways to use a business storage unit:
Inventory: Store surplus inventory and seasonal items, then retrieve them as needed.
Samples and Supplies: Does your company buy in bulk? Are there stacks of samples and supplies that will be used later? Instead of moving to a more expensive office, store them in a secure facility.
Trade Show Booth: Do you attend trade shows in specific seasons and not in others? Is that booth taking up valuable office space the remainder of the year? Store it near the 91 freeway and retrieve it as you leave town.
Documents: Documents that are saved but aren't accessed often can be locked away in secure file cabinets.
Office Equipment: Extra office equipment can be stored away and retrieve when needed.
Declutter: A decluttered office makes for a happier and more efficient workspace. Impress your customers with a clean, professional look. Increase employee productivity and sales.
Use the following tips to help you choose a business storage facility in Riverside:
Get Quotes from Multiple Facilities: Compare prices and amenities before making a decision.
Visit the Facility in Person: This will give you the opportunity to see our facility and meet our friendly staff.
Ask about Security Features: Make sure the facility has security measures in place to protect your belongings.
Read Reviews: This can help you get an idea of what other customers have experienced.
Also consider the following factors:
Location: The location of the storage facility should be convenient for your business.
Security: The storage facility should be secure and have measures in place to prevent theft and vandalism.
Size: The storage unit should be large enough to accommodate your growing business needs.
Price: The cost of business storage can vary depending on the type of unit, the size of the unit, and the length of the lease. Our Riverside, CA storage prices and sizes are posted here.
With a little planning, you can find the perfect business storage facility in Riverside to meet your needs!

Business Storage Riverside CA
Our Riverside location has business storage units available varying in size from 20 sq. ft. to 400 sq. ft. with roll-up, drive-up, indoor, and mini locker alternatives. Rent a unit to fit your self-storage business needs by calling our resident manager at (951) 735-0211 or by submitting our contact form. This facility is open seven days a week.
Startup Costs and Month-To-Month
We wave the deposit that is charged by some facilities. Just pay us prior to each month's rental and save on the upstart costs. Instead of locking in a year's lease, pay month-to-month to rent a storage unit, then, move out whenever you are ready. Just give us written notice seven days before the next payment due date. Changing to a different unit size is easy too!
We offer business storage for Riverside, Corona, Norco, California zip codes 92501, 92502, 92503, 92504, 92505, 92506, 92507, 92508, 92509, 92513, 92514, 92515, 92516, 92517, 92518, 92519, 92521, 92522, 92860, 92877, 92878, 92879, 92880, 92881, 92882, 92883.
Call our managers at (951) 735-0211 for a free consultation regarding the best unit size for your business. We look forward to talking with you!