Self-Storage for My Boat
Is your boat and trailer taking up too much room in your driveway? Is your significant other tired of parking their car at the curb? Are you looking for a self-storage facility to store your boat and wondering about the details?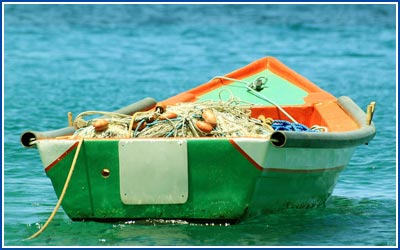 Storage Facility Location
The first thing to consider when looking for a storage place is location. Look for a unit that is either near your home or one that is close to your favorite body of water. A facility that is convenient to a major freeway is also helpful, so you don't waste precious boating time driving long distances for pick up and drop off.
Our Fountain Valley facility is near the 405 Freeway and our Riverside location is off the 91 Freeway a few miles east of the 15 Freeway.
Size of Your Boat
The next consideration is the size of your boat. Is it a dingy that will fit inside a unit with a rollup door, or, are you looking for an exterior space to park a larger craft? If you're looking for an enclosed unit, check that there's enough room to easily maneuver your truck and boat down the aisle. See if you can turn your trailer 90 degrees and back it up without scraping against the storage unit walls. For larger boats, you won't have walls to contend with, however, there may be an RV or boat on either side of you. For convenience, see if there's enough room to pull your boat forward into and out of your space.
Security
Since you may not see your boat for months at a time, look for a facility that has a security gate, security cameras, and resident managers.
Winter Boat Storage Tips
In Southern California, we don't have winters harsh enough to keep boats out of the water all season long. However, we do have work and school and sometimes it even rains, so there may be months where your boat will sit unused. Consider performing maintenance when you store the boat so you can get it in the water faster in the spring.
Check your boat for cracks, torn sails, and other items in need of repair, and, while you're at it, check all the belts, hoses, and clamps. Keep a log and set a date to have the work down. Even better, finish the work before you store the boat, so you don't have to think about it when you're out on the slopes skiing.
Drain all water, scrub the deck and hull, and clean the interior areas, including removing all perishables. And, remember to flush out the head and holding tanks. Maybe your new storage facility has a hose hook up for your use. If not, wash the boat thoroughly before transferring it to storage.
Check with your local boat supply about the best additives for your boat's engine and follow the manufacture's instructions. The cooling system and pumps may need antifreeze as well.
Depending upon the size, you can cover your boat (or part of it) with plastic tarps, from Home Depot or Lowes, to keep it dry and clean. Tie the tarps down securely to the boat to keep them from blowing off in the wind.
Important Note: To keep the warranty valid, remember to consult the owner's manual for the make and model of your boat for specific instructions from the manufacture.
Do you have additional storage questions regarding your boat? Our on-site managers in Fountain Valley at (714) 964-1607 and in Riverside at (951) 735-0211, will be happy to help you with your self-storage needs.
Oh, and, Happy Boating to you!