How to Pack Your Holiday Decorations for Storage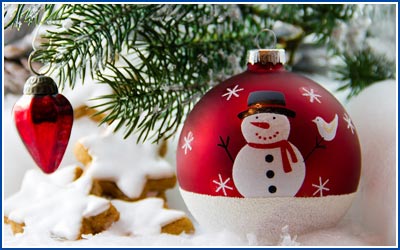 Decorating for the holidays is something many people joyfully anticipate each year. Packing up the decorations when the festivities are over, is not always met with the same enthusiasm. Here are six storage tips to help with the dismantling process.
Christmas and Hanukkah Lights
Light strings tangle easily. Holiday lights can be carefully wrapped around cardboard strips to keep them tangle free. The wrapped strings are then gently placed in a sturdy box, along with snack size reclosable bags for the extra bulbs. If the box is made of clear plastic, it needs to be stored away from sunlight, so the colorful bulbs don't fade.
Ornaments
Holiday ornaments are best stored in their original box. If boxes are worn out or lost, ornament storage boxes, from local home stores or online, are a great substitute. For small, fragile decorations, clean egg cartons stuffed with tissue paper work well. With each ornament placed into a cell and the lid closed, several egg cartons can then be stored in a sturdy box.
Linens and Towels
Linens and towels need be cleaned and dried, per the manufacturers instructions, before being put away for the year. If there is room, the best place to store them is in a linen closet. Skirt hangers are another option, however, some hanger material can discolor or damage linens, so use quality hangers.
Wrapping Paper, Ribbons, and Bows
There are many ways to store wrapping paper. For rolled paper, consider a shoe caddy, a garment bag, or the longer storage boxes designed for wrapping paper. Folded paper can be stored in smaller storage boxes or caddies, along with the ribbons and bows.
Wreaths
Crush-proof plastic containers for artificial wreaths are sold at most home centers, during the holiday season. Larger wreaths can be wrapped it in plastic and hung from a hook or rod. Another option is to use live plant material, which can be recycled instead of stored.
Christmas Trees
Most cities have a recycling plan for live trees too, so storage is not needed. Artificial trees typically pull apart and can be packed back into the original box. If the box has been damaged from years of use, a Christmas tree bag can be purchased. These bags are available in many shapes and sizes and some even have wheels. If there is room, the fully assembled tree can be wrapped in a Christmas tree bag or shrink wrap, leaving it ready for next year's holiday.
Self-Storage Unit
If you find that you have accumulated more decorations than you can store, consider renting a storage unit with us! Our facilities serve Fountain Valley / Huntington Beach and Riverside / Corona, California, with units ranging in size from 30 to 600 sq. ft.