Size Guide, Price for 14x24 Ground Floor Self-Storage Unit
If you have any questions regarding this ground floor 14x24 self-storage unit, including how much it costs, please contact our on-site manager at (714) 964-1607 or via email. View all unit sizes for this location.
Details
Location:
Fountain Valley, CA 92708 (
map and directions
)
Near:
405 Freeway (exit Euclid Street or Ellis Avenue)
Type:
Roll-Up Door Storage Unit
Size:
14 x 24 (Large)
Square Feet:
336
Price*:
$562.00 per month
Move-In Special*:
Contact facility manager...
Moving Carts:
4-Wheeled Flat Bed Carts
Security Gate:
Yes
Surveillance Cameras:
Yes
Lease / Payments:
Month-to-month
Credit Cards Accepted:
Yes
Deposit Required:
No
On-Site Professional Managers:
Yes
Climate Controlled:
No
Lock:
Bring your own
or buy on-site
⇒ Request information for this unit size...
⇒ Generate downloadable .pdf Unit template with grid...
⇒ View additional unit sizes...
*Storage unit prices, move-in specials, and sales are subject to change without notice.
Size Guide
What Fits in a 14x24 Storage Unit? A 14x24 self-storage space will typically have room for items such as:
Residential: Appliances, ATV*, Bedroom Set, Books, Car or Truck*, Chairs, Clothes from Walk-in Closet, Comforter, Couch, Craft Boxes, End Tables, Entertainment Center, Furniture for Five to Seven Bedroom Home, Garden Equipment, Hats, Holiday Decorations, Kayak, Large Screen TV, Lawn Mower*, Luggage, Mattress, Microwave Oven, Motorcycle*, Patio Furniture, Piano, Power Garden Tools*, Recreational Equipment, Refrigerator, Small Boat*, Sofa, Storage Boxes, Toys, Vacuum Cleaner, Washer and Dryer, Wheelchair...
Small Business: Archived Files, Binders, Construction Equipment, Desks, File Cabinet, Inventory, Office Equipment, Office Furniture, Samples, Shelves, Shredder, Small Trailer, Storage Boxes, Supplies, Trade Show Booth, Whiteboard...
College, Summer Break: Bicycle, Blankets, Desk, Drum Set, Electric Scooter, Futon, Lamps, Mattress Pad, Pillows, Sheets, Sports Equipment, Twin XL Mattress, TV Stand...
⇒ Send message for additional information, lowest price, and to rent unit...
⇒ Call our on-site manager at (714) 964-1607.
*Remember to remove gasoline and oil from ATVs, Cars, Trucks, Motorcycles, Lawn Mowers, Power Garden Tools, etc.
Graphic Representation
View the following graphic for ideas on what might fit in a 14x24 storage unit. Your final layout will vary.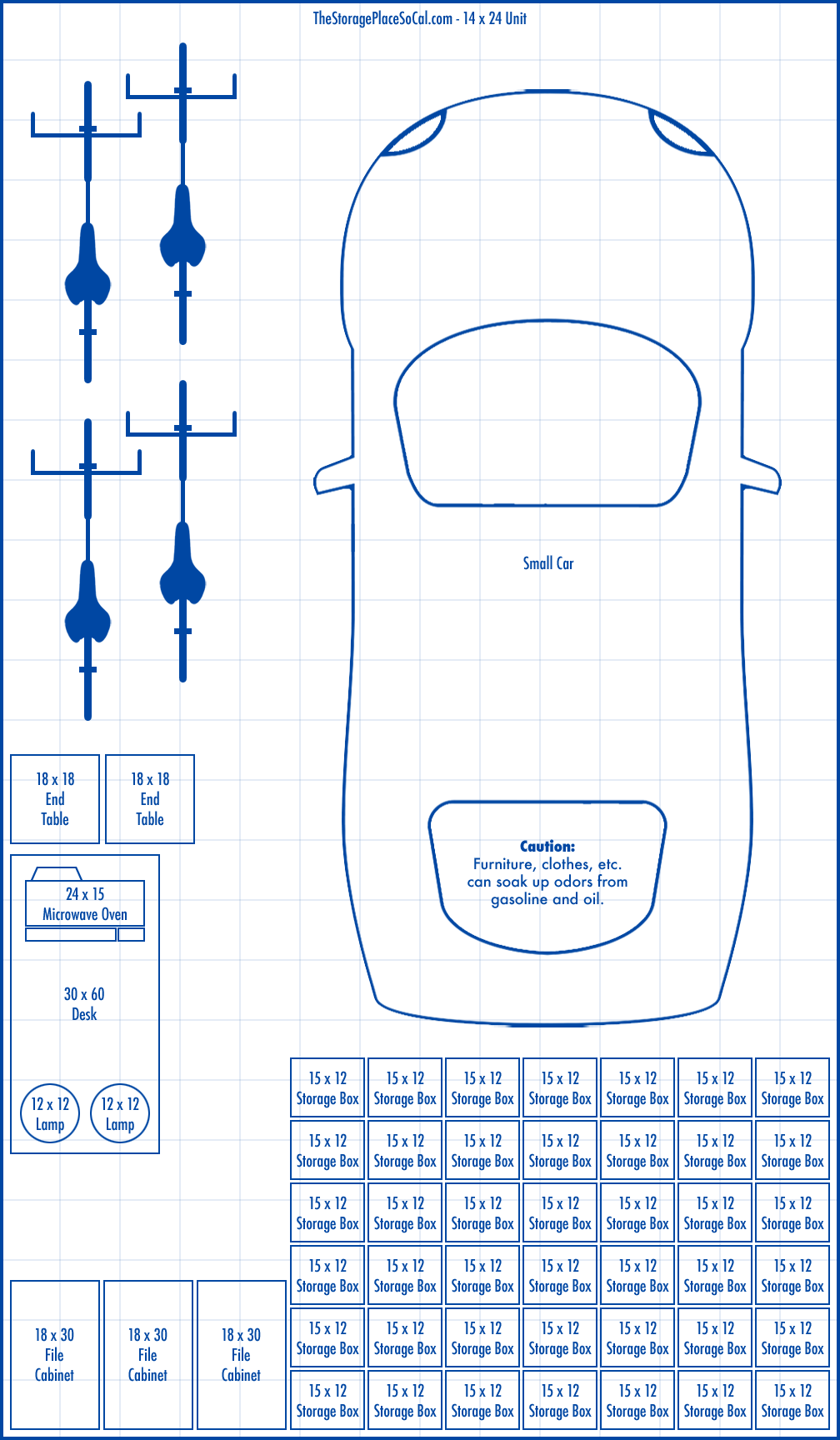 Click to Enlarge Graphic...